---
---
Cyclone Dust Extractor

By Peter James
Sydney Woodturners Guild
---
---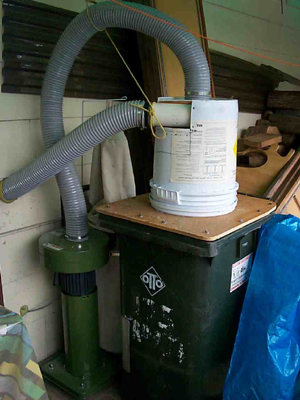 The dust extractor is a 40 litre Chlorine bucket on top of a 160 litre garbage bin.

Cut the centre out of the Chlorine bucket lid, leaving just enough to enable it to be bolted to the plywood lid on the bin. If the drum lid is of the locking type, just clip the cyclone drum to the lid of the garbage bin using the original locking in the rim of the bucket lid.

A jigsaw was used to cut the plastic bucket lid, the ply used was flooring offcuts. It was sealed with silicone and held together with self tapping screws.

It all seems to work ok as I have 2/3rds filled the bin with shavings and there was only an inch of fine dust in the bottom bag on the actual extractor.

The pipe size is 90mm. It works a treat.

A tip on using 90mm stormwater pipe for dust collection. If you are using a reasonable length (more than a metre or so), be careful of static electricity build up. To be sure, run a bit of bared copper braid or wire down the inside of the pipe and bring it out via 3/16th gutter bolts or even bring the wire out on a pipe to a flexible hose joiner.

The best way to adapt 90mm pipe to the 100mm hose used on your typical Taiwanese dust extractor is to use threaded connections (external thread for a screw on lid) which, when they are wrapped with a couple of layers of duct tape, are the correct diameter for the ID of the flexible hose.
| | | | | | |
| --- | --- | --- | --- | --- | --- |
| | | | | | |
---
Back to the Articles page