Pyrography Past and Present
Reproduced with permission of WWWoodcarver
http://carverscompanion.com/Ezine/WWWEzine.html
Olive Hughes, Still Making History!
By Kathleen Menéndez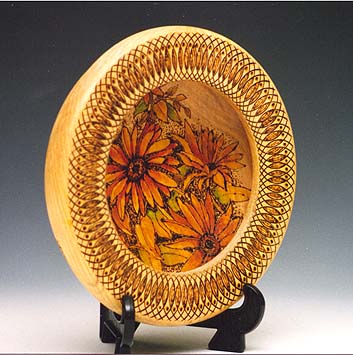 Daisy Bowl
by Olive Hughes, 1998

Deep recess, turned bowl of Hoop Pine
Daisy design worked in pyrography and color deep on base and inside of bowl
Image courtesy of the artist
Australian Olive Hughes' two encounters with the medium of pyrography were somewhat by chance. Always devoted to art, Olive set out as a young lady to study painting and that has been her focus throughout her life. This segment is dedicated to telling about her second encounter with pyrography and then linking to a firsthand account of Olive Hughes' original encounter with pyrography--as a factory worker in the 1930s.
By a fortunate twist of fate--after about sixty years!--Olive's talents for pyrography were rediscovered by the Woodturners Guild in Sydney, Australia.
For the last four years, this remarkable octagenarian has been producing work like the examples shown here, decorating their handsome turned-wood pieces in a masterful blending of pyrography and painting.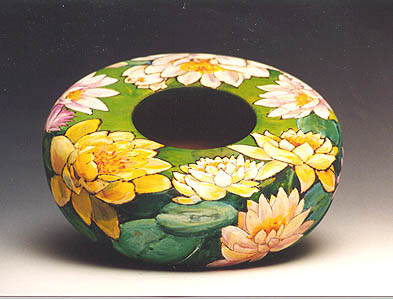 Waterlilies Bowl
by Olive Hughes, 1998

Waterlilies in pyrography and color on turned wood bowl

Turned wood bowl of Silky Oak is by Harry Jones
.
Olive's Curriculum Vitae is a fascinating list of travels combined with art that anyone would envy.
In pursuit of her painting career, Olive has studied with G. K. Townshend, Desiderious Orban, and credits Rubery Bennett with guidance.
Between 1969 and 1979, she visited art centres in nine countries of Europe plus Israel, as well as pursuing studies in England. Also during that decade, she attended a World Education Conference in Japan and studied at the International Academy in Salzburg, Austria. She also went to Vermont, U.S.A. to paint with Claude Croney and was even able to travel to remote Alaska, U.S.A. to see Eskimo art.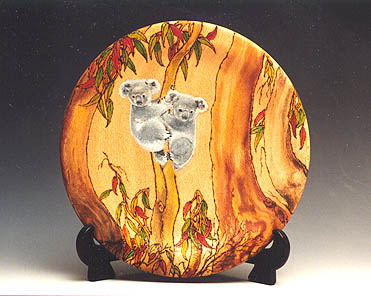 Two Koalas
by Olive Hughes, 1998

Pyrography and color on wood plaque of Silky Oak

.
Olive didn't slow down for the decade of the 1980s either--quite the contrary! She traveled regularly every couple of years to various places in the United States to give workshops and lectures.

Between 1981 to 1986, in her capacity as an Art Lecturer for P. & O. Shipping Lines serving the Pacific and the Mediterranean, Olive traveled to Japan, Korea, China, and Malaysia. She even managed to visit Nepal with a group of artists. That decade of the 1980s and even into 1991 was also a period when she had successful one-woman exhibitions of paintings and even sculpture, too. Besides Australia and the United States, her work is in private collections in England, continental Europe, Canada, and Japan.
Olive Hughes' Poker Work Past
It was IAPA member Sue Walters who first heard about Olive Hughes through an article in the Australian Wood Review magazine, issue #23. Thanks to her efforts in soliciting permission from the Australian Wood Review magazine, the E-Museum was able to reprint their article entitled Rekindling an Art in its entirety. The Australian Wood Review, like many other magazines today, has been observing and documenting the resurgence of the pyrographic medium in the art world.

Olive's story--especially her first encounter with pyrography--is the focus of that article, much of it told in Olive's own words, telling about when she was a very young woman working as an artist in a poker work factory in Australia starting almost seventy years ago.

You are invited to click on the article's link to visit a period in the history of pyrography as seen through the eyes of Olive Hughes.
---
The Author

Kathleen M. Garvey Menéndez learned her pyrography techniques in Guatemala in 1975-1977. Her sister, Artist Sharon H. Garvey, later joined her there to collaborate on a pyrography project designed to promote this art form in the United States by means of a didactic book and a pyrography tool made by Navarro of Mexico.

Thanks to the internet, January 2000 marked the beginning of the fourth year of articles on pyrography for the WWWoodc@rver E-Zine, started January 1997, and the third year of the E-Museum of Pyrographic Art, which opened January 1998. In March of that year, the International Association of Pyrographic Artists (IAPA) was formed and members began meeting on line. Linked from the E-Museum's Café Flambé, which hosts the IAPA meetings, is the eGroups uniting_pyrographers mailing list, member list, and chat forum set up by Mixo Sydenham of Australia for IAPA members.
---
Back to the Articles page